---
On behalf of the Executive Committee of the 1st World Community Power Conference (WPCP2016), the Official Reception for the speakers are going to be held as follows. Participants of the WCPC2016 are also welcome to join to the reception with fee, so please register for the reception by filling out the form below if you are willing to participate. Advance application is advised since over 80 speakers and concerned individuals already committed to participate so we may decline on the spot application.
---
---
Date & Time: 19:00~21:00, Thursday, 3rd November 2016
Venue: Zuiko Nishinoma, 2F, Fukushima Green Palace (Ohta-machi 13-53, Fukushima City. * 5-minute walk from the conference venue
Admission fee: 6,000 Yen/person
Mode: Buffet with selected Japanese rice wine (sake), etc.
---
---
18:50 Registration/Admission
19:00 Opening remark
Stefan Gsänger (WCPC2016 Executive Committee Co-chair/WWEA Secretary General)
Kaoru Kobayashi (WCPC2016 Co-organizer/Mayor of Fukushima City)
Special Guest Speech: Dr. Franz Alt (Journalist)
19:20 Toast
Yauemon Sato (WCPC2016 Executive Committee Co-chair/JCPA Executive Director)
20:00 Japanese traditional instrument performance
Kisai Sato (Shakuhachi), Yuko Shibata, Kayoko Numazaki, Mariko Sato (Koto)
20:55 Closing remark
Tetsunari Iida (WCPC2016 Executive Committee Co-chair/ISEP Executive Director)
21:00 End
---
---
Dr. Franz Alt
One of the most famous and respected journalists in Germany. Born in 1938, Dr. Alt has long served editor, presenter and anchor of renown programs such Südwestrundfunk, the political program "Report," and "Unconventional thinker". He has received numerous prestigious awards and he has a very close relationship with internationally notable figures such as Hermann Scheer and the Dalai Lama. His current focus is on renewable energy but also on spirituality.
---
---
Fukushima Renewable Future Fund, co-organizer of the conference, has run an art gallery space called "Gallery Off Grid" at Fukushima Renewable Energy Building. As the modern artist, Kenji Yanobe, took the opportunity of his exhibition at Gallery Off Grid, he decided to donate the original model of "Sun Child" to Fukushima Renewable Future Fund. At the official reception in the evening of the Day 1, the original model will be exhibited.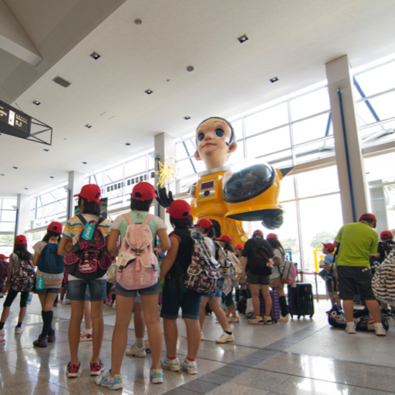 Kenji Yanobe "Sun Child" Fukushima Modern Art Biennale 2012 Fukushima Airport
---
---